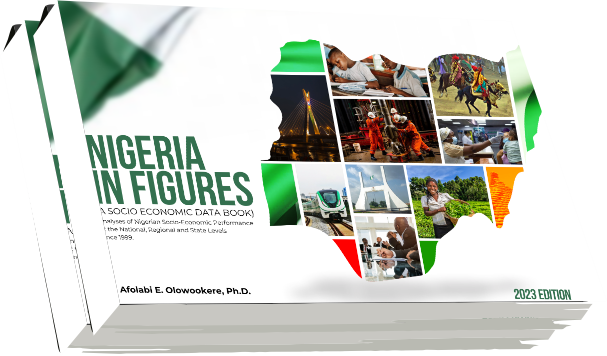 Nigeria in Figures: A Socio-Economic Databook
This databook provides evidence-based inputs into the discussions, analysis and planning by policymakers, researchers, businesses and other key stakeholders in Nigeria. Specifically, it:
examines Nigeria's socio-economic performance since 1999;
brings relevant data from multiple sources and formats together into a single document;
presents, in a comprehensive manner, data at the national, regional and state levels;
describes the developments, challenges and policies of different sectors;
shows the relative performance of Nigeria against selected comparator countries;
employs simple and attractive charts and illustrations for clear understanding;
provides detailed sources and description of relevant data; and
gives insights on how to interpret the figures and charts.
Nigeria in Figures: A Socio-Economic Databook is therefore presented as a reference data book to guide the measurement and assessment of Nigeria's socioeconomic performance over time.
About the Author.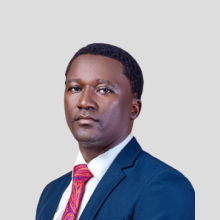 Afolabi Emmanuel Olowookere is the Managing Director and Chief Economist of Analysts' Data Services and Resources (ADSR). Before now, he was at different times the Head of Economic Research and Policy Management at the Securities and Exchange Commission, Nigeria, a Research Economist at the World Bank, the Head of Economic Research and Publications at Financial Derivatives Company (FDC) and a Post-Doctoral Research Fellow at the Centre for Econometrics and Allied Research (CEAR), University of Ibadan. Afolabi holds a Doctoral Degree in Economics from the University of Ibadan under the African Economic Research Consortium's sponsored Collaborative PhD. Programme (CPP) in Sub-Saharan Africa. He is a Senior Faculty Member at the Nigerian Economic Summit Group (NESG) and also teaches at the Central Bank of Nigeria's Collaborative Postgraduate Programme in the Department of Economics, University of Ibadan. Dr Olowookere is an associate of the Chartered Institute of Stockbrokers, a member of the Research Committee of the Chartered Institute of Bankers of Nigeria (CIBN) and a member of the Productive Capacities Index (PCI) Statistical and Technical Task Team of the United Nations Conference on Trade and Development (UNCTAD). He served on various committees that worked on macroeconomic modelling and drafted the National Development Plan (2021-2025) and Nigeria Agenda 2050. Afolabi has published widely in his field with experience working and consulting for various international and local institutions in the areas of Economics, Finance and Data Analysis.
---
The Usefulness of the Book
The Book provides answers to the following vital questions, among several others;
How has Nigeria performed in its different sectors and socio-economic indicators
Has it always been this way, or performances in the past were better or worse
What policies and programmes have been implemented and why
To what extent have the Nigerian citizens benefited from democracy in the 4th Republic
How is Nigeria performing relative to some comparator countries on key indicators
How is my sector performing relative to other sectors
How should one set targets and monitor progress for private and public institutions
How can a leader make his/her thinking, interactions and decisions more fact-based
Where can information to strengthen speeches, interviews and presentations be obtained
How should one validate data submitted by subordinates for robustness and correctness
What data and sources best capture specific aspects or sectors of the economy
What can be used to guide staff and advisers on appropriate information needs and sources
What reference material exists on Nigerian economic history and performance